An extraordinary collection of villas in Costa Smeralda, Sardinia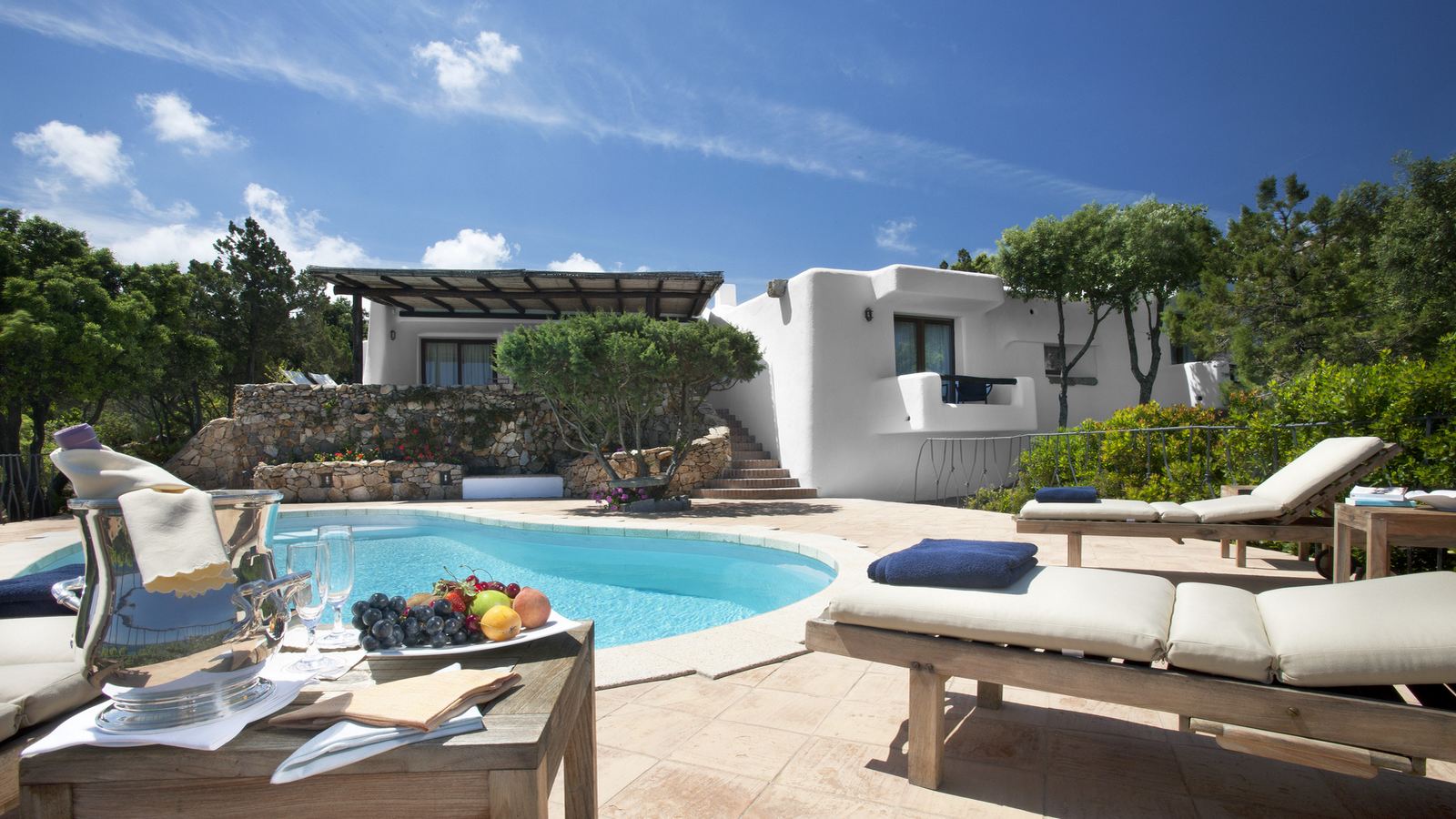 Seven of the Costa Smeralda Unique Suites are to be found hidden away in the gardens of the Hotel Pitrizza, which sits perched on a small promontory lapped on three sides by the legendary emerald sea. Guests also enjoy a private beach of the finest, whitest sand and one of the most spectacular swimming pools anywhere in the Mediterranean. Hotel Pitrizza is the quintessence of luxury and privacy. The secluded suites and villas that make up its accommodations nestle discreetly in its greenery as they gaze out over the sea. Guests are cocooned in tranquility and relaxation. Inspired by the island itself and its traditions, the Pitrizza Villas exude a sense of timeless, understated luxury, their harmonious design naturally melding with the exquisite natural surroundings.
Villa Corbezzolo

Private villa directly located on the beach and composed of one double room, a nice separate living room, two bathrooms, a terrace, a dining area facing the sea and a small, private beach..
Villa Pino

Born of the union of one premium double connected to two smaller double rooms, each one with private bathroom and balcony, Villa Pino may be reserved as separate Double Guest Rooms, as connecting Double Guest Rooms, or as a private villa.
Villa La Roccia


One double room, two bathrooms, nice living room, panoramic sea view. Guests who enjoy a more private and secluded vacation will take pleasure in this spacious villa located 300 meters from the hotel beach. The villa also offers a private pool and all the amenities of our guest rooms.
Villa Antas


Villa Bithia lies in an extraordinary charming location, painted by the colour of nature. A paradisiac haven of luxurious simplicity, that perfectly integrates with the existing landscape.
Villa

Bithia




A private heavenly suite immersed in the green landscape of the Costa Smeralda, where materials and colours perfectly blend with the natural elements. To complete this magical frame only the amazing views of the emerald green sea.
Villa Casa di Sopra


A heavenly home-from-home, our sprawling 169-square-metre Villa Casa di Sopra is truly heavenly. Outdoors, a sprawling terrace overlooks a calm emerald sea dotted with distant islands and boats.
For information and reservations:
Phone +39 0789 930111
Email pitrizza@luxurycollection.com